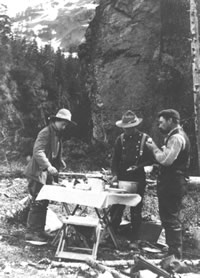 Louise Kellogg in the field

Louise Kellogg was born on August 27, 1879, the youngest of five children. Her parents lived in Oakland in a house that had been built by her grandfather, who had come west during the gold rush. Louise's father was an officer of Tubbs Cordage in San Francisco and the founder of the Cordelia Shooting Club. It was from him that Louise learned to hunt and fish. As a young woman, Louise attended the University of California. Her enrollment may have been encouraged by her cousin who was a faculty member; it was also an indication of her parents affluence and social standing within the community. She graduated in 1901 with a degree in classics, and soon after, began teaching school.

In the summer of 1908, Louise (approaching 30, single and not engaged to be married) was invited by Miss Annie Alexander to accompany her and others from the Museum of Vertebrate Zoology on a collecting expedition to Alaska. Although Alexander was an experienced traveler at that time it was not the norm for a woman to travel as the only female in the company of men. This trip marked the beginning of a 42 year relationship between the two women and so the story of Louise Kellogg's life cannot be told without also including Annie Alexander (1867–1950); the two were life long companions and friends.

Alexander's father, Samuel, was the founder of an Hawaiian sugar empire, and his wealth afforded his adventurous daughter the opportunity to pursue her many interests. In the late 1880's, her family moved from Hawaii to Oakland, and although Alexander never liked life in the city, her new home did have one advantage — its proximity to the newly established University of California. In 1900, Alexander audited a paleontology course, and from that point forward, she pursued her interests in natural history. Her father recognized her interest and dedication to the field and, in 1904 invited her to go with him on an African safari. Her purpose would be to collect wildlife, both on film and as trophies. The two had a wonderful time, and Alexander wrote "We have made every day count. I doubt if there are two more delighted people in the country than Papa and I."

Sadly, their trip would end in tragedy. On the morning of September 9th, the two were visiting Victoria Falls. Construction of the Zambesi Railway Bridge was underway and Alexander and her father descended into the Palm Grove Ravine to view the falls. Just as they reached the point that afforded them the best view, they became aware of rocks falling from above. Hearing a sharp noise, Alexander looked up to see a three foot boulder hurtling toward her father. It struck Samuel on his left side, crushing his left foot and leaving him in severe pain. He was bleeding profusely and although medical help arrived and Samuel was moved to the doctor's residence and treated, he died the following morning.

Her father's death served as the catalyst for Alexander to found the Museum of Vertebrate Zoology on the Berkeley campus. At the age of 37, she felt the need to give meaning to her life and the idea of creating a natural history museum took shape in her mind.

Over the next several years, Alexander continued to make scientific collections of paleontological and vertebrate specimens. By 1906, she had planned a trip to Alaska. In asking the Bureau of Biological Survey to grant her permit, she justified her request by stating "My objective in making this collection is to form the nucleus for a collection representing the fauna of the Western coast. The work is something that especially interests me and I would like to make it a life work." Alexander and Joseph Grinnell, who she would later appoint to be Museum director, both recognized the importance of permanently documenting biodiversity.

After a year or more of negotiating with the University of California, the Museum of Vertebrate Zoology was founded in 1908. During her life, Alexander provided substantial financial support to the Museum and her legacy continues through an endowment fund. She also had a keen interest in paleontology and later founded and supported that museum as well.

One of the first Museum sponsored trips was to Alaska in 1908. Louise Kellogg, a companion who could share both the physical labor and joy of field work, proved an ideal collecting companion. Over the next 40 years (until Alexander was in her early 80's and Kellogg in her late 60's), the two women conducted biological and botanical surveys and collected thousands of specimens throughout western North America and abroad. The quality of Alexander and Kellogg's specimen preparations continually elicited admiration from University and museum scientists. Not only were they meticulously prepared but they also came with maps, photographs, and detailed field notes.

By 1939, Alexander and Kellogg had collected birds and small mammals for more than thirty years. With characteristic zeal they redirected their energies toward collecting plants. As the winter of 1947 approached, Alexander and Kellogg prepared to embark on their last great adventure together — a three month collecting trip to Baja California. Accompanied by Annetta Carter (University Herbarium), they crossed the border into Mexico on November 3, 1947. They reached Cabo San Lucas 44 days after setting out from Tijuana. They returned in January, 1948 with 4608 sheets for the herbarium representing over 700 taxa, many of which were undescribed species or significant range extensions of previously known taxa. Over the next couple of years, their collecting trips were confined to the US and they spent more time on the ranch that they had developed and maintained since 1911 (525 acres that Alexander purchased on Grizzly Island). There, the women grew hay, bred milking cattle, and raised asparagus. In 1949, Miss Alexander had a brief illness and then a major stroke, lapsing into a coma for 10 months. She died in 1950.

Kellogg continued her botanical work after Alexander's death, coming into the Herbarium to prepare her specimens. She and Annetta Carter made a second and then a third expedition to Baja California. Eventually, Kellogg stopped going on collecting trips, spending more of her time on the farm in Suisun. However, she continued to support collecting expeditions with gifts to the Herbarium.

Kellogg died in 1967. In her will, she provided an endowment for the University Herbarium and her legacy lives on. The funds are used to support research by the Herbarium botanists, a purpose that would have pleased her.

Adapted by Staci Markos from Barbara R. Stein. 2001. On Her Own Terms: Annie Montague Alexander and the Rise of Science in the American West. 397 pp. University of California Press, Berkeley.
Copyright © 2001 Regents of the University of California. Used with permission.