Map Distribution
Description
eFlora Distribution
Illustrations
Cal Photos images
Elevation by latitude plot
Claopodium bolanderi
Plants to 5 cm long in dense to rather loose, pinnately branched, green to golden green mats. Stems well differentiated from the short branches whose leaves are markedly smaller. Stem leaves to 1.5 mm long, 2.5–3.5: 1, lanceolate and narrowly tapered from immediately above the auriculate base to the flexuose and hyaline acumen. Leaves, when moist, spreading at the base, then erect-spreading, strongly catenulate when dry. Margins plane, coarsely serrate on the auricle but serrulate above. Median cells mostly elliptic to rhomboidal with rather large corner thickenings, 6–8 µm wide, 1–2.5: 1, with 2–4 papillae on each surface and with the papillar salients to only 3 µm high. Juxtacostal cells, especially the basal, smooth, to 8: 1, thick-walled and somewhat pitted. Marginal cells in one to several rows smooth and short rectangular, to 3: 1, especially well-defined near median leaf. Cells of piliferous apex very long and hyaline, more than 10: 1. Cells in the auricle mostly smaller and more regularly quadrate or transversely elongate compared to the median cells. Costa pale and glistening in macroscopic view, ending near the base of the hyaline acumen, sparingly prorate spinose. Axillary hairs not offset from leaf insertion, to 100 µm long, 3 celled, without a basal brown cell. Pseudoparaphyllia arched over bud, broadly triangular to orbicular, very coarsely serrate, high papillose. Rhizoids red-brown and smooth, densely fascicled and essentially unbranched, to 8 µm wide at insertion.
Dioicous with male plants somewhat smaller than the females. Perichaetia on main stems with bracts very pale to bleached green, somewhat longer than vegetative leaves. Seta red brown, papillose throughout, to 1.5 cm long. Urn red brown, inclined to horizontal, oblong and asymmetric, to 2: 1, to 1.5 mm long, strangulate when dry. Operculum rostrate, about as long as urn. Exothecial cells short rectangular, 1.5–2.0: 1, to 25 µm wide, rather thick walled with strong corner thickenings, Annulus well differentiated, not revoluble. Exostome to 500 µm long, brown to pale brown, evenly tapered and without a shoulder, horizontally striate at base, nearly smooth distally. Endostome almost as long as exostome, with basal membrane comprising about 1/2. Endostome processes lightly papillose, keeled and perforate, with 2–3 cilia. Spores smooth, to 14 µm in diameter.
Vouchers: Del Norte Co.: Whiskey Lake, Six Rivers National Forest, Norris 83372; Humboldt Co.: South Fork Tish-Tang-a-Tang Creek east of Hoopa, Norris & Whittemore 52367; Lake Co.: Mt. Sanhedrin, Shevock, Ertter, Toren, & Dearing 19492; Marin Co.: Sir Francis Drake Blvd. Near Lagunitas, Yurky 402 (SFSU); Placer Co.: Bowman Lake west of Truckee, Tahoe National Forest, Norris 76955; Shasta Co.: Castle Lake at Castle Lake Creek, southwest of Mt. Shasta City, Shasta-Trinity National Forest, Norris & Hillyard 103845; Siskiyou Co.: Scotts Camp Creek Basin, Norris 53077; Tuolumne Co.: Forest Road 3N01 at Clavey Creek, Stanislaus National Forest, Norris 78792.
Literature: Bourell 1981; Holmberg 1969; Koch 1950a, 1951e; Lawton 1971; McGrew 1976; Noguchi 1964; Showers 1982; Spjut 1971; Toren 1977; Yurky 1990, 1995.
Illustration References: Malcolm et al. 2009 p. 248; Lawton 1971; Noguchi 1964.
Claopodium bolanderi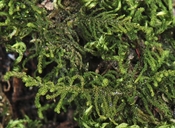 © 2012 calbryos group