Map Distribution
Description
eFlora Distribution
Illustrations
Cal Photos images
Elevation by latitude plot
No Taxonomic Notes.
No Description.
Catalog Notes: Seems to be on rocks in upper conifer zone; upper leaf cells 9-13 µm; leaf cross-section without hydroids. Lena Coleman
Vouchers: Inyo Co.: Long Lake near Morgan Pass, John Muir Wilderness, Inyo National Forest, Shevock 13818 and Rogers Peak near Hummingbird Spring, Death Valley National Park, York & Davis 2703 (CAS); Lassen Co.: Highway 395 about 3 miles north of Litchfield at milepost 79.7, Norris & Hermann 22598; Riverside Co.: Marion Mountain Campground, San Jacinto Mountains, San Bernardino National Forest, Harpel 31 (pers. herb.); San Luis Obispo Co.: Boy Scout Road, Camp Roberts Military Reservation, Norris 100903; Santa Cruz Co.: south of Eagle Rock near Bonny Doon, Kellman 867 (BUF, CAS) [determined by Zander].
Literature: Kellman 2003. As Tortula bartramii Harpel 1980a; Harthill et al. 1979; Koch 1950a; Lawton 1971; Long 1978; McGrew 1976; Mishler 1978.
Illustration References: Lawton 1971; Sharp et al. 1994.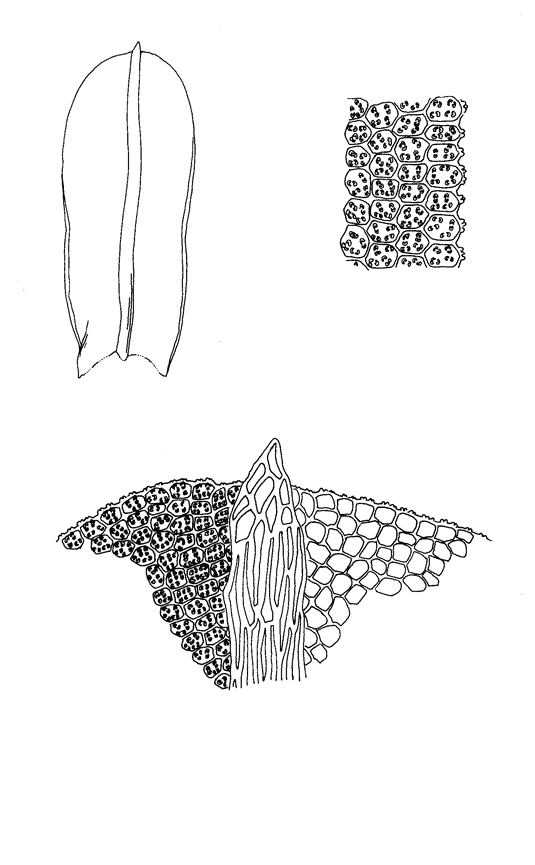 Syntrichia bartramii

© 2012 calbryos group

Syntrichia bartramii

© 2013 calbryos group

Syntrichia bartramii

© 2012 calbryos group

Syntrichia bartramii

© 2012 calbryos group

Syntrichia bartramii

© 2012 calbryos group

Syntrichia bartramii

© 2012 calbryos group