Map Distribution
Description
eFlora Distribution
Illustrations
Cal Photos images
Elevation by latitude plot
No Taxonomic Notes.
No Description.
Vouchers: Contra Costa Co.: Donner Canyon, Mt. Diablo State Park, Shevock & Ertter 20329; Del Norte Co.: Forest Road 4803, Siskiyou National Forest, Norris 70907; El Dorado Co.: Bear Creek Picnic Area south-southeast of Georgetown, Eldorado National Forest, Norris & Piippo 82339; Lake Co.: Ericson Ridge, Mt. Sanhedrin, Mendocino National Forest, Toren 5113 (CAS); Santa Cruz Co.: Blue Cliff, South Fork Fall Creek, Kellman 557 (CAS); Shasta Co.: Forest Road 39N07 along Soda Creek about 6 miles northeast of Interstate 5 south of Dunsmuir, Norris & Hillyard 103803; Trinity Co.: Swede Creek Road about 1 mile north of intersection with road to Ironside Mountain Lookout, Shasta-Trinity National Forest, Norris 70711; Tulare Co.: trail to Crystal Cave near Cascade Creek, Sequoia National Park, Shevock & Tseng 15765.
Literature: Kellman 2003; Lawton 1971; Spjut 1971; Yurky 1990. As Mnium venustum Bourell 1981; Harpel 1980a; Koch 1950a, 1951e; Koch and Ikenberry 1954; Lesquereux 1868; Toren 1977; Watson 1880.
Illustration References: Malcolm et al. 2009 p. 185; Lawton 1971.
Plagiomnium venustum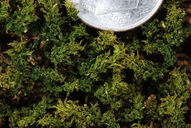 © 2012 calbryos group