Map Distribution
Description
eFlora Distribution
Illustrations
Cal Photos images
Elevation by latitude plot
No Taxonomic Notes.
No Description.
Vouchers: Alameda Co.: Del Valle Road at the eastern border of Del Valle Regional Park about 10 miles south of Livermore, Whittemore 3361 (MO) [determined by Zander]; Fresno Co.: Dinkey-Trimmer Road east of Haslett Basin, Sierra National Forest, Norris, Shevock, & Barahona 87476 & 87477; Lake Co.: near Hell's Peak, Toren 786 (SFSU, UC); Riverside Co.: below Bighorn Overlook along Highway 74, eastern boundary of San Bernardino National Forest, Norris 57836, and 8 miles west of Desert Center on road to Twenty-Nine Palms, Norris 57930; San Diego Co.: Box Willow Canyon Campground, Anza Borrego State Park, Norris 77718 & 77734; San Luis Obispo Co.: Lynch Canyon Road about 3 miles from Interlake Road south of San Antonio Reservoir, Norris 85171; San Mateo Co.: Edgewood Trail, Edgewood County Park, Whittemore 5345 (MO); Tehama Co.: Antelope Creek Canyon about 10 miles east of Red Bluff along Bell Mine Road, Berti 419a (UC).
Literature: Kellman 2003; Shevock and Toren 2001. As Anacalypta starkeana Lesquereux 1868. As Pottia arizonica Harthill et al. 1979; Koch 1950a; McCleary 1972; Steere 1954. As Pottia arizonica var. mucronulata Crum 1957; Flowers 1973. As Pottia fosbergii Bartram 1930; Koch 1950a. As Pottia starkeana Brandegee 1891; Howe 1896, 1897; Harthill et al. 1979; Koch 1950a; Lesquereux 1868; Lesquereux and James 1884; Toren 1977; Watson 1880; Whittemore and Sommers 1999. As Pottia texana Crum 1969; Crum and Anderson 1981.
Illustration References: Malcolm et al. 2009 p. 134; Flowers 1973; Sharp et al. 1994; Smith 1978.
No illustrations found in database.
Microbryum starckeanum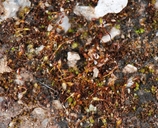 © 2013 calbryos group