Map Distribution
Description
eFlora Distribution
Illustrations
Cal Photos images
Elevation by latitude plot
No Taxonomic Notes.
No Description.
Vouchers: Calaveras Co.: Moran Creek about 1 mile north of Avery, Stanislaus National Forest, Wagner Jr. 4360a (UC); El Dorado Co.: Bear Creek Picnic Area south-southwest of Georgetown, Eldorado National Forest, Norris & Piippo 82338; Humboldt Co.: between Cal Barrel Road and Elk Grove Park Headquarters, Prairie Creek Redwoods State Park, Shevock 16741; Madera Co.: Minarets Road at Rock Creek, Sierra National Forest, Shevock & Kellman 19772; Nevada Co.: tributary of Washington Creek 4.2 miles from Highway 20, Tahoe National Forest, Shevock & Toren 20742; Santa Cruz Co.: Near George's Campground, Forest of Nisene Marks State Park east of Aptos, Santa Cruz Mountains, Whittemore 4038 (CAS); Siskiyou Co.: Elliott Creek near Seattle Bar, Rogue River National Forest, Shevock & Toren 20083; Trinity Co.: Highway 36 at Swift Creek, Shasta-Trinity National Forest, Norris 56551.
Literature: Howe 1897; Yurky 1990, Yurky 1995. As Leucolepis menziesii Bourell 1981; Holmberg 1969; Jamieson 1969; Kellman 2003; Koch 1950a; Koch and Ikenberry 1954; Lawton 1971; Smith 1970; Spjut 1971; Steere et al. 1954; Thomson and Ketchledge 1958; Toren 1977. As Mnium menziesii Bradshaw 1926; Lesquereux 1868; Sullivant 1856; Watson 1880.
Illustration References: Malcolm et al. 2009 p. 177; Lawton 1971.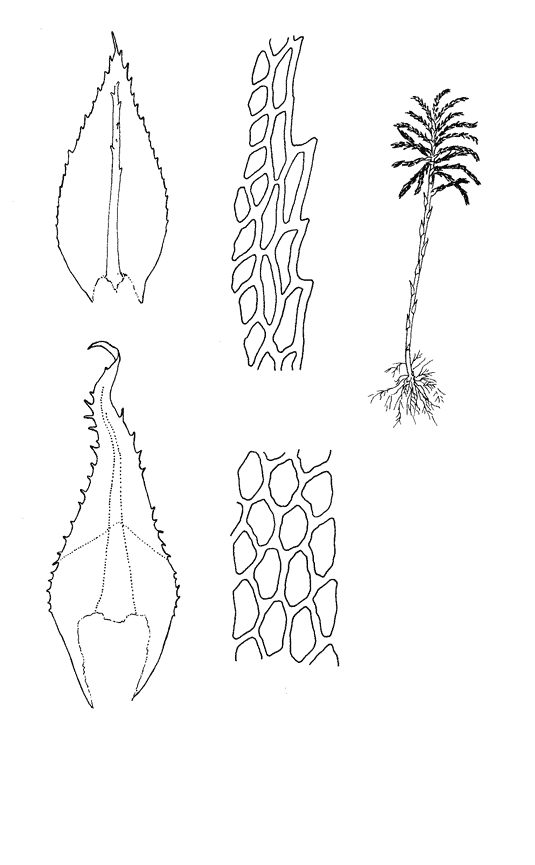 Leucolepis acanthoneura

© 2011 calbryos group

Leucolepis acanthoneura

© 2011 calbryos group

Leucolepis acanthoneura

© 2015 Adrienne Simmons

Leucolepis acanthoneura

© 2011 calbryos group