Map Distribution
Description
eFlora Distribution
Illustrations
Cal Photos images
Elevation by latitude plot
Homalothecium pinnatifidum, Bull. Torrey Bot. Club 92: 343. 1962. -- Hypnum pinnatifidum Sull. & Lesq. 1865. -- Camptothecium pinnatifidum (Sull. & Lesq.) Sull. 1874. -- Camptothecium amesiae Ren. & Card. 1888.
Plants mostly in thin mats, pale to whitish-green. Stems prostrate, to 5 cm long, pinnately branched with continuous gradation between the rather elongate branches (to 10 mm long) from the proximal portions of the stem and the very short branches (to 2 mm long) from the distal portions of the stem, to 6 cm long. Stem leaves to 2 mm long, 2–2.5: 1, deltoid-triangular with a long acumen, plicate, especially near base. Branch leaves imbricated, strongly appressed to stem from base to apex when dry, not strongly spreading when moist, not at all falcate or secund, to 1 mm long, about 3: 1, lanceolate to ovate-lanceolate, plicate but often very lightly so, with the acumen absent or poorly demarcated. Branch leaves smaller, relatively shorter and with a more blunt apex than the stem leaves. Margins recurved, often nearly to apex, somewhat decurrent, entire below but usually serrulate above. Median cells smooth, 4–6 µm wide, linear, 10–12: 1, thin-walled, not pitted. Alar region 6–8 cells wide at the base but ascending farther up the leaf internally as compared to marginally. Alar cells rather numerous in a moderately well-defined group, regularly quadrate with pellucid lumends with walls rather thick but not at all pitted. Apical cells of branch leaves markedly shorter than median laminal cells, mostly short rectangular, 1.5–2.5: 1. Costa extending to the base of the acumen, with one or several dorsal spines near its apex. Pseudoparaphyllia deltoid to orbicular, strongly overarching the bud. Axillary hairs of 4–5 similar cells, to 65 µm with no basal brown cells, not offset from leaf insertion. Rhizoids red-brown, to 10 µm, smooth, in scattered fascicles from abaxial base of leaves on ventral portion of prostrate stem.
Dioicous with male plants similar to females. Perichaetial bracts loosely ascending; ecostate or nearly so, 6–8: 1, elliptic-lanceolate, broadest at the base, only gradually contracted to the apex; median cells rather thin-walled, uniformly long and straight to 20: 1. Seta yellow-brown to brown, coarsely prorate throughout, to 1.5 cm long. Capsule brown to yellow brown, arcuate and inclined, strangulate when dry. Urn to 2.5 mm, cylindric and asymmetric, 3.5–4.5: 1. Exothecial cells in regular vertical rows, to 25 µm wide, short rectangular, to 3: 1, with lumen: wall ration about 2: 1 and with stomata restricted to neck. Operculum bluntly conic, about 1/3 as long as urn. Annulus differentiated, not revoluble. Exostome to 500 µm long, horizontally striate below, papillose above, yellow brown to red-brown. Endostome segments low papillose, open on keel, about as long as exostome with basal membrane about equal in length to the segments. Cilia 1–2 per segment, inconspicuous to as long as endostome segments1–2, not appendiculate. Spores finely papillose, to 20 µm.
Three species of Homalothecium in California have very regularly singly pinnate plants. Homalothecium pinnatifidum is easily recognised by the narrowly triangular fronds achieved by the gradation between the short branches near stem apices and the long branches nearer the stem bases. In contrast, Homalothecium nuttallii has very narrow fronds whose branches near the stem apices are little shorter than those near the stem bases. Homalothecium decurrentifolium closely resembles H. pinnatifidum in frond form but the fronds of the former species are markedly larger than those of the latter.
Vouchers: Butte Co.:near Cherokee, Norris 73603; Kern Co.: Piute Mountain Road, BLM Bodfish Piute Cypress Natural Area, Piute Mountains, Shevock 12495; Mendocino Co.: Eel River about 3 miles south of Piercy, Norris 72111; San Diego Co.: Highway 76, Cleveland National Forest, Norris 70201; Santa Clara Co.: Mine Hill Trail south of Cape Horn Pass, Almaden Quicksilver County Park, Whittemore 5316 (UC); Santa Cruz Co.: trail to Buzzards Lagoon, Forest of Nisene Marks State Park, Kellman 732 (CAS); Trinity Co.: Highway 299 about 4 miles west of Weaverville, Norris 73524.
Literature: Bourell 1981; Harpel 1980a; Harthill et al. 1979; Holmberg 1969; Kellman 2003; Lawton 1965a, 1971; Long 1978; McCleary 1972; Sigal 1975; Spjut 1971; Toren 1977; Yurky 1990, 1995.As Camptothecium amesiae Howe 1897; Koch 1950a, 1951a; Koch and Ikenberry 1954; Renauld and Cardot 1888. As Camptothecium pinnatifidum Bradshaw 1926; Howe 1896; Kingman 1912; Koch 1950a; Koch and Ikenberry 1954; Steere 1954; Thomson and Ketchledge 1958. As Hypnum pinnatifidum Lesquereux 1868; Watson 1880. Misapplied as Homalothecium aureum Hofman 1998; Whittemore and Sommers 1999.
Illustration References: Lawton 1965a, 1971; Sharp et al. 1994.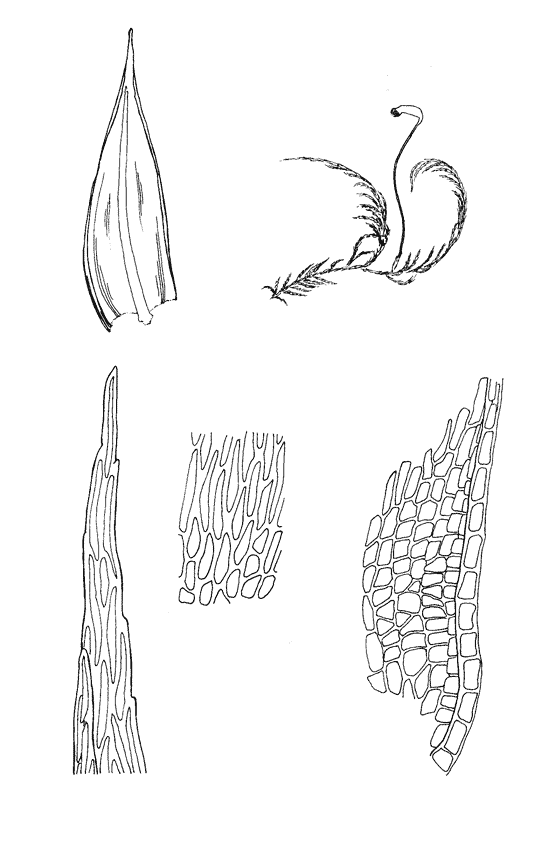 Homalothecium pinnatifidum

© 2012 calbryos group

Homalothecium pinnatifidum

© 2012 John Game

Homalothecium pinnatifidum

© 2013 calbryos group

Homalothecium pinnatifidum

© 2012 calbryos group

Homalothecium pinnatifidum

© 2012 calbryos group

Homalothecium pinnatifidum

© 2012 calbryos group

Homalothecium pinnatifidum

© 2012 calbryos group

Homalothecium pinnatifidum?

© 2011 calbryos group

Homalothecium pinnatifidum

© 2013 calbryos group

Homalothecium pinnatifidum

© 2012 calbryos group

Homalothecium pinnatifidum

© 2012 calbryos group