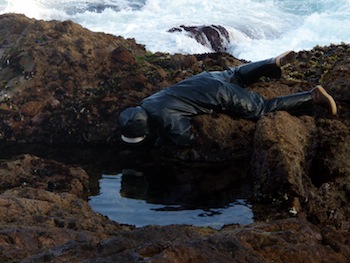 Curator of Algae
My engagement with seaweeds began as an undergraduate at UC Berkeley during a summer course at the Bodega Marine Lab in 1976. Don Kaplan was my major professor for my PhD at UC Berkeley. Paul Silva has been my valued mentor for 30 years; I am making every effort to care for the University Herbarium's splendid collection of seaweeds as he did for more than 50 years (http://ucjeps.berkeley.edu/CPD/algal_research.html).
The California seaweed flora is my main focus. I've collected extensively throughout California, with a strong emphasis on the California Channel Islands, where I've worked since 1983 with Jack Engle, supported by the Tatman Foundation (Ephraim, WI). I am currently updating the book that has taught me so much, Abbott & Hollenberg's Marine Algae of California (1976). I'm also interested in additions to our seaweed flora — non-native species introduced to our harbors by mariculture and shipping.
Teaching has been important to me, especially field courses for the Jepson Workshop program and at University of New Hampshire/Cornell University's Shoals Marine Laboratory in the Gulf of Maine, University of Washington's Friday Harbor Laboratories and the University of Southern California's Wrigley Marine Science Center on Santa Catalina Island.
I work with ecologists who are monitoring the California coast in a changing world:
MARINe
LiMPETS
REEF Check California
I also lead a summer Intertidal Ecology Internship at Shoals Marine Lab:
https://www.sml.cornell.edu/sml_students_internships.html
I am a morphologist in the era of molecules. I am lucky to share UC's specimens and to enjoy collaborations with brilliant people who have wonderful molecular laboratories, including: Sung Min Boo and his students (Chungnam University, Korea), Jeffery Hughey (Hartnell College, Salinas, CA), Paul Gabrielson (U. North Carolina), Jim Coyer (formerly at U. Groningen, the Netherlands) and, most recently, Ester Serrão, University of Algarve, Portugal).
ONLINE PUBLICATIONS
Updates to Marine Algae of California (1976). 2014. http://ucjeps.berkeley.edu/californiaseaweeds.html
Algal type specimens in UC (working list). With R.L. Moe. http://ucjeps.berkeley.edu/ina/algal_types.html
Index to the Phycotheca Boreali-Americana. 2009. http://ucjeps.berkeley.edu/ina/pba/pba_main.html
Galapagos Type Specimens in UC. 2007. http://ucjeps.berkeley.edu/ina/galapagos_types.html
IUCN Red List of Threatened Species. www.iucnredlist.org K.A. Miller, L.E. Garske, G.J. Edgar. 2007. 74 species of Galapagos marine algae assessed.
SELECTED PUBLICATIONS
Kim, S.Y., E.C. Yang, H.S. Yoon, K.A. Miller, and S.M. Boo. 2014. Genetic diversity and haplotype distribution of Pachymeniopsis gargiuli sp. nov. and P. lanceolata (Halymeniales, Rhodophyta) in Korea, with notes on their non-native distributions. J. Phycology. In press.

Yoon, K.J., K.M. Kim, G.H. Boo, K.A. Miller and S.M. Boo. 2014. Mitochondrial cox1 and cob sequence diversities in Gelidium vagum (Gelidiales, Rhodophyta) in Korea. Algae 29: 15-25.

Lee, K.M., G.H. Boo, J.A. Coyer, W.A. Nelson, K.A. Miller and S.M. Boo. 2013. Distribution patterns and introduction pathways of the cosmopolitan brown alga Colpomenia peregrina using mt cox3 and atp6 sequences. Journal of Applied Phycology 26: 491-504.

Zabin, C., E. Danner, E. Baumgarter, D. Spafford, K.A. Miller and J.S. Pearse. 2013. A comparison of intertidal species richness and composition between central California and Oahu, Hawaii. Marine Ecology 34: 131-156.

Martone, P.T., S.C. Lindstrom, K.A. Miller and P.W. Gabrielson. 2012. Chiharaea and Yamadaia (Corallinales, Rhodophyta) represent reduced and highly derived articulated coralline morphologies. Journal of Phycology 48: 859-868.

Miller, K.A., L.E. Aguilar-Rosas and F.F. Pedroche. 2011. A review of non-native seaweeds from California, USA and Baja California, México. Reseña de algas marinas no nativas de California, USA y Baja California, México. Hidrobiológica 21: 240-254.

Murray, S.N. and K.A. Miller. 2011. Marine macrophytes of the open-coast, rocky intertidal habitats of the Cabrillo National Monument. Natural Resource Data Series NPS/MEDN/NRDS—2011/189. National Park Service, Fort Collins, Colorado.

Boo, G.H., S.C. Lindstrom, N.G. Klochkova, N. Yotsukura, E.C. Yang, H.G. Kim, J.R. Waaland, G.Y. Cho, K.A. Miller and S.M. Boo. 2011. Taxonomy and biogeography of Agarum and Thalassiophyllum (Laminariales, Phaeophyceae) based on sequences of nuclear, mitochondrial, and plastid markers. Taxon 60: 831-840.

Gabrielson, P.W., K.A. Miller and P.T. Martone. 2011. Morphometric and molecular analyses confirm two distinct species of Calliarthron (Corallinales, Rhodophyta), a genus endemic to the northeast Pacific. Phycologia 50: 298-316.

Edgar, G.J., S. Banks, M. Brandt, R.H. Bustamante, A. Chiriboga, S.A. Earle, L.E. Garske, P.W. Glynn, S. Henderson, C.P. Hickman, K.A. Miller, F. Rivera and G.M. Wellington. 2010. El Niño, fisheries and animal grazers interact to magnify extinction risk for Galapagos marine species. Global Change Biology 16: 2876-2890.

Kogishi, K.,T. Kitayama, T. Hanyuda, K.A. Miller and H. Kawai. 2010. Phylogeography of Cutleria cylindrica (Cutleriales, Phaeophyceae) in northeastern Asia, and the identity of an introduced population in California. Journal of Phycology 46: 553-558.

Miller, K.A., J.R. Hughey and P.W. Gabrielson. 2009. First report of the Japanese species Grateloupia lanceolata (Halymeniaceae, Rhodophyta) from California, USA. Phycological Research 57: 238-241.

Hughey, J.R., K.A. Miller and A. Lyman. 2009. Noteworthy collections: Dasya sessilis, Grateloupia lanceolata, Grateloupia turuturu, and Neosiphonia harveyi. Madroño 56: 293-295.

Hughey, J.R. and K.A. Miller. 2009. Noteworthy collection: Schizymenia dubyi, new to California. Madroño 56: 64.

Miller, K.A. and J.M. Engle. 2009. The natural history of Undaria pinnatifida and Sargassum filicinum at the California Channel Islands: non-native seaweeds with different invasion styles. In Damiani, C.C. and D.K. Garcelon (eds.) Proceedings of the Seventh California Islands Symposium, Institute for Wildlife Studies, Arcata, CA. Pp. 131-140.

Coyer, J.A., K.A. Miller, J.M. Engle, J. Veldsink, A. Cabello-Pasini, W.T. Stam and J.L. Olsen. 2008. Eelgrass meadows in the California Channel Islands and adjacent coast reveal a mosaic of two species, evidence for introgression, and variable clonality. Annals of Botany 101: 73-87.

Edgar G.J., S. Banks, R. Bensted-Smith, M. Calvopiña, A. Chiriboga, L.E. Garske, S. Henderson, K.A. Miller and S. Salazar. 2008. Conservation of threatened species in the Galapagos Marine Reserve through identification and protection of marine Key Biodiversity Areas. Aquatic Conservation: Marine and Freshwater Ecosystems 18: 955-968.

Miller, K.A., J.M. Engle, S. Uwai and H. Kawai. 2007. First report of the Asian seaweed Sargassum filicinum Harvey (Fucales) in California, USA. Biological Invasions 9: 609-613.

Kitayama, T., K.A. Miller and P.C. Silva. 2005. First record of Elachista nigra (Chordariales, Phaeophyceae) from California, North America. Bulletin of the National Science Museum, Tokyo, Japan, Series B, 31(1): 57-60.

Miller, K.A., J.L. Olsen and W.T. Stam. 2000. Genetic divergence correlates with morphological and ecological subdivision in the deep-water kelp, Pelagophycus porra (Phaeophyceae). Journal of Phycology. 36: 862-870.

Masuda, M. and K.A. Miller. 1999. A new species of Odonthalia from the Aleutian Islands, Alaska. Phycologia 38: 253-260.