California Moss eFlora
Anomobryum W. P. Schimper, 1860.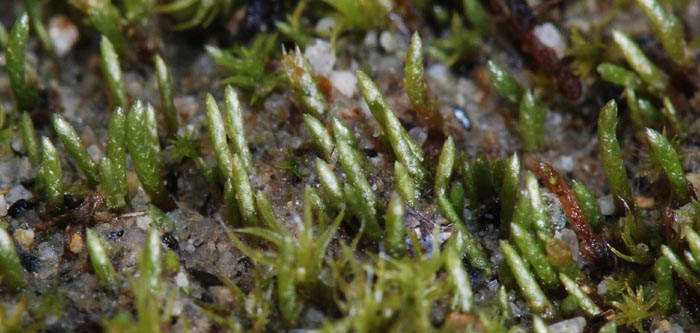 Anomobryum julaceum, photo by Wilson of Coleman 768

Anomobryum grows in the northern half of the state on thin soil over rocks primarily on roadcuts or cliff-bases, or along intermittent streamlets. This glossy, gray-green acrocarpous plant is readily recognized by its strongly julaceous, rather elongate stems.
see key to Pohlia Etc.

Species included:
Anomobryum concinnatum (Spruce) Lindb., recognized from CA since 2004
Anomobryum julaceum (Schrader ex P. G. Gärtner, B. Meyer & Scherbius) W. P. Schimper
---
Copyright © 2013 Regents of the University of California
We encourage links to these pages, but the content may not be downloaded for reposting, repackaging, redistributing, or sale in any form, without written permission from the University and Jepson Herbaria.