Plants Find Their Places on the Tree of Life
Elizabeth Pennisi
Researchers trying to piece together the tree of animal life are hacking through dense foliage, barely able to see the top branches, never mind the distant twigs (see main text). But their colleagues studying plants have many of their phylogenetic trees neatly pruned and manicured. Whereas the animal and microbial types are wrestling with new techniques and beginning to talk about collaborations, botanists have already embraced the culture and methods of big science.
Over the past decade, 200 plant taxonomists from a dozen countries have been analyzing and refiguring the evolutionary history of their favorite flora in an effort called Deep Green. For other systematists, the endeavor has become one to aspire to (Science, 13 August 1999, p. 990). "The plant people have made major advances as far as I can tell" and are moving faster than animal-centric researchers, says Frederick Schram, a barnacle expert at the University of Amsterdam.
By coming together, Deep Green researchers were able to identify poorly studied groups and holes in the data. They then parceled out the work to fill those holes. Although it sounds simple, Deep Green depended on the vision of several systematists who rallied their colleagues, says James Rodman, a plant systematist at the U.S. National Science Foundation (NSF). Others say the plant people are succeeding because their field and their trees--filled with a mere 300,000 species--are smaller. As a result, it seems "that the plant people have a good handle on all sorts of data, almost to the point of being truly comprehensive," says John Gittleman, an evolutionary biologist at the University of Virginia, Charlottesville.
For the next step, the Deep Green researchers have been busy figuring out the best way to combine their data into that one tree--"our most accurate representation of the history of green plants," says Charles O'Kelly, a systematic biologist at the Bigelow Laboratory for Ocean Sciences in West Boothbay Harbor, Maine. The work of wrestling their very large data sets into a single tree is part of a 5-year, $2.7 million NSF grant involving six U.S. teams. At the same time, there's an increased push to put all these data into public databases.
Thus for plant taxonomists the next 5 years promise to be a data gold rush. Several other projects, independently funded but interconnected, are delving into less well- covered aspects of the field. One, called Deep Gene, will help plant experts make use of plant genomics information and vice versa. "Deep Time" researchers will blend plant fossil finds with modern botany. And "Deepest Green" delves into the base of the plant tree to sort out the relationships among the green algae.
---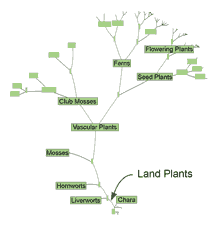 Green and growing. On the Deep Green Web site (ucjeps.berkeley.edu/TreeofLife/hyperbolic.php), this tree of plants gets more detailed with a click of the mouse.

---
Such a multipronged, coordinated assault makes some animal systematists green with envy. "I think that the animal [researchers] would profit by a similar approach rather than the winner-take-all rodeo that seems to prevail right now in zoology," says Schram. If his colleagues' competitive spirits could be converted to cooperation, he says, "in a few years, we could achieve wonders."
Related articles in Science:
Dating the Tree of Life


Evolution of the Protein Repertoire


The Deep Roots of Eukaryotes


Phylogenomics: Intersection of Evolution and Genomics


Preserving the Tree of Life


Charting the Evolutionary History of Life


Modernizing the Tree of Life


Drafting a Tree


Volume 300, Number 5626, Issue of 13 Jun 2003, p. 1696.
Copyright © 2003 by The American Association for the Advancement of Science. All rights reserved.